Philosophy
The Fitness Center (FC) was created to:
Increase KSC employee awareness of the long-term health benefits of a physically active lifestyle.
Help KSC employees maintain and improve physical and mental fitness to help prevent illness and disease.
Provide a supportive environment for positive lifestyle choices.
Direct and motivate employees through the process of lifestyle change.
The KSC FC philosophy is well grounded in research which indicates adherence to a healthy, active lifestyle is positively associated with improvement in quality of life. The KSC Fitness Center objective is to enable employees to experience these benefits by reaching a high level of personal health.
Location & Hours
Neil Armstrong Operations & Checkout Building M7-355, Room 1514
321.867.7829
Open Monday - Friday 5:30am - 7:00pm
An integral arm of the KSC Health Education and Wellness Program (HEWP), https://hewp.ksc.nasa.gov, the KSC Fitness Center offers complimentary membership to all employees with a KSC or CCAFS badge. Amenities include full-time trained staff, cardio and resistance machines, free weights, a group exercise room, DVDs for use, and locker rooms with shower facilities.
KSC FC equipment includes treadmills, ellipticals, stair climbers, bicycles, strength training machines and free weights. The KSC FC group exercise room is equipped with exercise equipment, two TV monitors and DVD players, and a wide variety of fitness and Yoga DVD's available to FC members.
Membership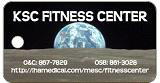 New or Renewing Members:
Complete the Demographic (
KSC Form 50-85
) and the KSC Fitness Center: Fitness Center Clearance Questionnaire (
KSC Form 50-42
) membership forms found on the NASA Forms website,
https://nef.nasa.gov
, or at the KSC Fitness Center. On the NASA Forms website, search by the form number, such as "50-85" or "50-42". In the search results, click on the form number link on the left-hand side of the screen. Please do not click on the "order copies" button.
Bring completed forms to the KSC FC, and have staff take your blood pressure. Based on your answers to the KSC Fitness Center: Fitness Center Clearance Questionnaire form and your blood pressure reading, the staff will determine if it is necessary for you to receive a medical clearance from a physician. If it is determined that you need a medical clearance, KSC employees may be able to receive the clearance from the Occupational Health Facility at KSC. If not, you will need to provide it from your personal health care provider. Non-KSC employees will need a clearance from their personal health care provider unless pre-approved to utilize services provided by NEMCON. Once this process is completed, the Fitness Center staff will issue you a fitness center membership key-tag. You must check-in with your key-tag in order to use the KSC Fitness Center.